Our server rules are currently located on a Google Document.
You can view rules by clicking here
You can easily jump to any rule using the list on the left of the document.

Thank you for taking the time to review these, If you feel that a staff member or player is abusing these rules please message the Server Manager (Currently iiKingKai) on Discord. iiKingKai#1485

Are you in need of Support/Help?
We resolve all our issues in Discord if you cannot reach us in game!
You can join our discord by clicking here.

Once you are in you will want to look for the "Support" Category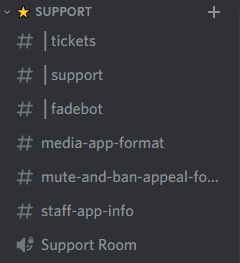 Click on #|Tickets and you will see 2 messages, One from Fadebot and another from iiKingKai. Make sure to read the messages in the channel.

Once you click on an emoji reaction below the FadeBot message, FadeBot will message you. Please fill out any and all information that you can and your ticket will be created.
Please give us 24 hours to respond to your issue.

Ban and Mute appeals, Staff applications and Media applications are also made here, Theres a format for everything listed after #|Fadebot that you will have to follow. The more information you provide, the faster we can process your ticket.